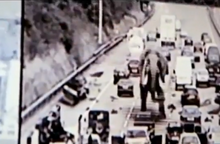 I am Primeval123! I enjoy raping lots of pages and other sections of wikia! I spend a lot of time making errors in Primeval or removing things never made or shown, designing my own version of things from scratch. You will know me the most for creating shitty covers for the older novel books (check them out!) You will also know me if you have looked on the First Future Page for making a future landscape there! I also do edits on a lot of other things, adding information and pictures constantly! I love doing this and don't mind it at all. It is fun, in someways educational, and you can let people know what you think on talk pages, so everyones blogging about and debating of what they thinks right!
I'm back editing! And now I will edit more than I have ever before!

New Book By Me!!!! Since I have already had so many book cover requests, I have decided to make my own book myself. It is going to be called, tragedy on the train! Following from the series 5 cliffhanger! Will be updating you soon! 
Book Cover Making
Hello there, if you are making a Primeval book, come to me, tell me the details of your cover, and I'll make it proudly! I do other book making aswell, of which are, Doctor Who, Jurassic Park (Jurassic Park 4 only), Walking Wtih Dinosaurs, Monsters, Beasts. (Walking with Monsters, Dinosaurs and Beasts book covers are being made for a limited amount of time. So tell me the creature you are making in your own book documentary for the walking withs. NOW!)
My Very Favourite Creatures!