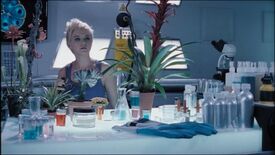 These tropical plants (possibly from prehistory or the future) were grown by Abby Maitland in the Anomaly Research Centre's new temperature controlled laboratory. On the first night that they were in the lab, the temperature conditions were just right and the plants flowered over night.
Later on, the lab was heated to high temperatures to try kill some future fungus spores, manifesting over Mark Baker, which exploded everywhere, covering the plants. The lab was then set to freezing temperatures which killed the spores and presumably the plants as well. (Episode 3.5)
Ad blocker interference detected!
Wikia is a free-to-use site that makes money from advertising. We have a modified experience for viewers using ad blockers

Wikia is not accessible if you've made further modifications. Remove the custom ad blocker rule(s) and the page will load as expected.