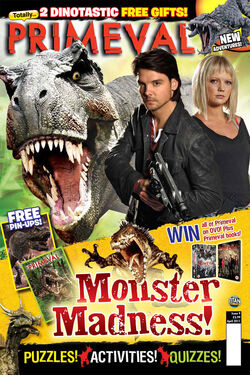 Totally... is a magazine that dedicates each issue to a different topic. Issue #9 was Totally Primeval; dedicated to Primeval (around Series 4 and Series 5 ), containing comic strips with new adventures for the team, as well as features, competitions, puzzles and games, interviews, posters, behind the scenes access and free gifts. It was published by Titan Magazines and released on 17 February 2011.
Official Description
The magazine, all about the ITV1 smash hit adventure series Primeval, contains an awesome mix of creature features, plenty of action and all the best bits from the latest series!
There's plenty for readers to get their teeth into, with awesome monsters, fascinating facts and inside info on the stars. Fans will love joining Hannah Spearritt, Andrew-Lee Potts, Ben Miller and Ben Mansfield on the set of the show and reading exclusive interviews with the actors!
Don't miss out on the all-new Primeval comic strip adventures! In Eye Strain, Matt reaches new heights as he, Abby and Connor try to tempt a rogue Pterosaur through an anomaly on the south bank of London. Then, in Picture This, Jess and Becker are in search of an Anomaly in a modern art gallery – and on the run from the most terrifying dinosaur of all, the T-rex!
The magazine is filled with all this and more, including: an essential dinosaur survival plan, pin-ups, monster profiles and a competition to win the complete series on DVD and a set of Primeval books! Plus, the magazine comes with two dino-tastic FREE gifts – build your own T-Rex skeleton and dinosaur stickers! Click here for an inside look!
Totally Primeval magazine, on sale 24 February from all good retailers!
---
The magazine is also available to download and read on the iPad, Mac or PC at Zinio.com, the world's largest digital newsstand. Zinio offers an exciting alternative to print magazines and a high quality digital reading experience, allowing you to zoom, interact, and share with friends.
Gallery
Totally Primeval Comics Creatures
Totally Primeval Comics Anomalies
Totally Primeval Comics Locations