Tom
Talk

0
1,215pages on
this wiki
"I'm a hero."
―Tom's last words
Tom is one of Connor Temple's friends and, along with Duncan is determined to find out about Connor's secret life. He is obsessed with conspiracy theories.He was also the first main character to die.
When at the Central Metropolitan University cafeteria, Connor explained to Tom and Duncan that he'd seen a Gorgonopsid. He also mentioned the anomalies, but stated that because he signed the official secrets act, he couldn't explain any further. Tom thought that Connor had spent way too long on the Playstaion. He and Duncan decided it would be fun to play a practical joke on Connor.
Later, whilst Connor and Abby were camping in the New Forest, Tom and Duncan let loose a model dinosaur. Connor and Abby believed it to be real, but when it fell over, the friends revealed themselves. The police then arrived, and Tom and Duncan ran off.
Tom and Duncan spotted Connor on his laptop at the university, and walked over, and Tom read an article on the Mosasaur from the screen. Annoyed, Connor made to leave, but Tom stopped him stating that it was "movie night" and that it was Connor's turn to buy the pizza. Connor stuffed a ten pound note into Duncan's hand and left. Tom and Duncan joked that he was going to see his girlfriend. Dismissing the idea, they decided to hatch a plan so that they could find out what he was hiding.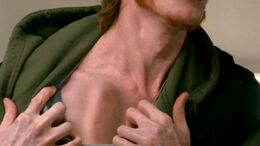 After Abby agreed that Connor could stay at her place, Tom and Duncan offered him a lift in their van. When they reached her flat, they gave Connor an innocent-looking Roswell key chain (which they had hidden a tracking device in so they could follow Connor) as an apology for their dinosaur joke. Connor thanked them and leaves. Tom and Duncan were shocked to see Abby kiss Connor, but it was actually fake. When Stephen arrived, Tom and Duncan thought he was Abby's real boyfriend, joking that Connor "is so dead!". When Stephen, Connor and Abby left for Matchroom Stadium, they followed in their van.
Later, a Dodo ate their Roswell tracking device off of Connor's bag. They then managed to catch the Dodo as it ran out of the building. Tom and Duncan took it to their flat, intending to sell the story to the papers, unaware that the Dodo was infected with a Parasite. After throwing up on their carpet, taking the TV remote from Duncan, and smashing their TV, the Dodo ran across the room and bit Tom, who'd been sitting at his computer at the time. The wound began to redden and spread as the Parasite started to infect Tom. When Duncan rushed over to see if Tom was okay, Tom tried to bite Duncan. Horrified, Duncan left the flat.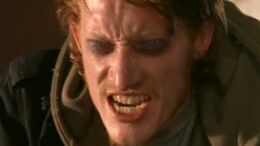 Tom visited a
hospital
so that the doctors could examine him. When the sunlight shone onto his seat in the waiting area, he began to cough and splutter. He raced to the hospital toilets, thinking he was about to throw up, but nothing happened. Horrified, he unbuttoned his jacket to see the shape of the parasite under his skin, slithering up his chest. When the doctors saw Tom and X-rayed him, they discovered the parasite. But when one doctor tried to check Tom's eyesight, Tom bit him, infecting him, and fled in horror.
Tom called Duncan from a toilet cubicle inside the hospital, but when Connor came on the phone, he refused to speak and dunked the phone into the toilet. He then remembered the tracking device inside the Dodo, and tracked the signal, hoping to use the Dodo as proof of the supposed conspiracy. He tracked it to Nick's office, where he tried to bite Abby. Promising to take Tom to the anomaly, Abby managed to convince him not to. They drove off to the stadium together.
When Abby opened the freezer that originally contained the anomaly, however, it had gone, causing Tom to believe that she was lying and get angry. He chased her through the stadium until he ended up on top of her on the pitch, intending to bite, and ultimately, kill her. Captain Tom Ryan, however, arrived with the rest of the team and trained his gun on Tom before the latter could bite Abby. In a desperate attempt to stop Tom from being shot, Connor talked to him reasonably, convincing him that it was all a conspiracy, and that Tom had fought the parasite fantastically. Tom agreed and states: "I'm a hero", before dying in Connor's arms.
When playing on his Xbox 360, Connor came across Tom's saved file. He sadly closed it and looked longingly at a photo of himself, Tom and Duncan.
Duncan accused Connor of being involved with a deadly conspiracy, stating that he'd overhead Connor's last conversation with Tom. Connor merely stated that he'd only said what Tom wanted to hear as he was dying. Later, after Connor and the ARC had defeated a Kaprosuchus, Connor told Duncan that "Tom would be proud" for how Duncan had helped them find the creature.
See Also: Images of Tom