Titanoboa
Talk

0
1,215pages on
this wiki
Titanoboa is a genus of snake that lived approximately 60 - 58 million years ago, during the Paleocene epoch, immediately following the dinosaur extinction event.
Titanoboa is a large aquatic snake, vaguely similar to the modern anaconda but is much longer. Titanoboa also hunts its prey by sound and vibrations. Due to this, it disregards silent prey, and is drawn to noise. Titanoboa also apparently has black and white vision.
Over the centuries, at least one Titanoboa kept travelling through a closing and reopening Anomaly between its home time and a bay in Holocene British Columbia, and was apparently incorporated into the First Nations' mythology as Sisiutl.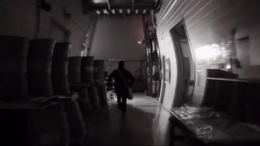 When the Anomaly opened in the present day, the Titanoboa came through into the bay and killed and ate two Merison Oil workers after it was drawn by the sound from their motorboats' engines. The Titanoboa later travelled onto shore and entered the sewers through a storm drain by the shoreline. It pursued Leo John and Evan Cross through the sewer, until the two escaped up a sewage pipe to the surface.
The Titanoboa then travelled through the sewer to a Merison Oil oil-loading facility. It broke into the facility through a shutter and pursued Evan through the building, before eventually returning to the sewers. The Titanoboa travelled under the oil facility's entrance, then returned to the bay shortly afterwards. There, Mac Rendell used the vibrations from a wireless drill inside a box to draw the Titanoboa back through the Anomaly, which closed seconds later. (Sisiutl (New World Episode 1.2))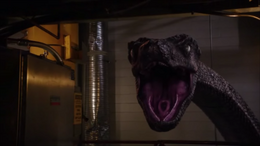 It has been theorised that the titanoboa in British Columbia had caused more than two deaths during the time earlier in the Holocene when it was travelling between there and the Paleocene.
The shape of the Titanoboa's head in Primeval: New World is much larger and more crested than Titanoboa's head was in real life.
Being cold-blooded and tropical, Titanoboa should have been unable to survive the cool climate of British Columbia. However, it is possible that it came to the Holocene B.C. only during summer, when the climate was tolerable enough for Titanoboa for short periods of time.
The Titanoboa in Primeval: New World is far longer than any real life remains of Titanoboa in the fossil record.