Temple TV was the vlog (video blog) of Connor Temple. Each week he talked about a subject that had interested or affected him recently. Before the first post, Connor sent you an email, telling you about the start of his new vlog. (Primeval Evolved )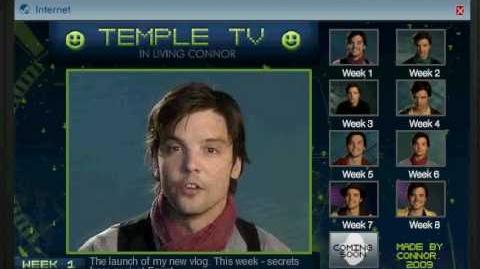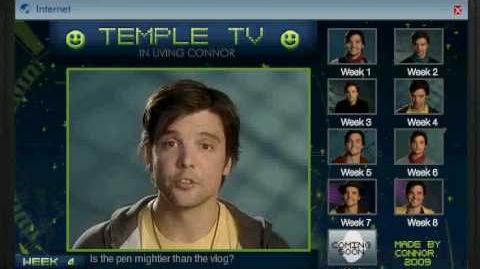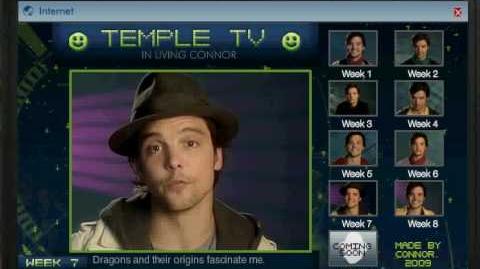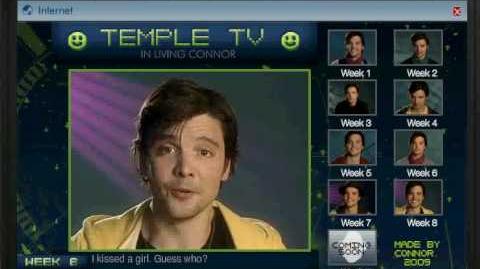 Posts
Connor talks about Ancient Egypt, and all the mysteries surrounding it.
Due to his recent experience in what he thought was a haunted house, Connor ponders the existence of ghosts.
Connor talks about heroes, and all the things they can do. He says to treasure any meetings with a hero, in case it is gone forever. He leaves to continue building something important.
Connor hypothetically asks whether the Media should be allowed to reveal top secret government research.
After the owner of a pent house which Connor had been to, died, Connor pondered on whether money can buy happiness. He also stated that his friend and colleage Jenny quit on that day because it was time for her to move on.
Connor states that he has developed ornithophobia (fear of birds) after encountering a large scary bird.
Connor talks about how dragons are in almost every culture and what could have inspired the legends.
Connor asks for romantic advice after a girl kissed him and blew his mind.
Connor elaborates on the troubles with time travel, and also states if you every travel to a different time, don't do anything but try to get back.
Ad blocker interference detected!
Wikia is a free-to-use site that makes money from advertising. We have a modified experience for viewers using ad blockers

Wikia is not accessible if you've made further modifications. Remove the custom ad blocker rule(s) and the page will load as expected.