Stephen Hart
Talk

0
1,215pages on
this wiki
Stephen James Hart[1] (born between 1974 and March 1975, died 4 March 2007[2]) was Nick Cutter's lab technician and right-hand man, and was one of his and Helen Cutter's college students. Stephen had a strong friendship with Cutter and romantic feelings towards Helen.
Stephen was a member of the Home Office Anomaly research team and later the main Anomaly Research Centre field team, and was the tracker and marksman of the team. Stephen died when he sacrificed himself to stop Oliver Leek's creature army.
Personality
Stephen is moody and cold, often coming across as aloof. He has a very strong bond with Cutter (however, he isn't afraid to stand up to him when he wants to), a big brother relationship with Connor, and, though he keeps his emotions in check, a fondness for Abby. He also has strong feelings for Helen, though these seem to sway from time to time.
On many occasions, Stephen has proven his loyalty to the team, as well as his bravery, putting his life at risk to save his colleagues. At the end of Series 2 Stephen sacrificed himself to save Nick, Helen and the rest of the world.
Biography
Pre-Anomalies
Stephen became a junior fencing champion and a junior shooting Olympic prospect in high school. Because of this, he was extremely fit, running an average of thirty miles a week. He also gained lightning reactions and extreme physical fitness. However, Stephen strongly felt that Humans were killing the Earth around them, and thus he took a job as a wildlife conservationist as a young man.
Eventually, Stephen went to university as a student of Professor Nick Cutter and his wife Helen. During this period, Stephen had a much-regretted affair with Helen. (Episode 1.6) After completing his studies, Stephen took a job as Nick Cutter's lab assistant at the Central Metropolitan University Department of Evolutionary Zoology. After Helen suddenly disappeared with no explanation in the late 1990s and was presumed dead, Stephen began to grow closer to a grieving Nick, and the two became firm friends.
At some point, Stephen gained a girlfriend named Alison, who, six years after Helen's disappearance, went to the Amazon Rainforest for some time to research tropical diseases. (Episode 1.3)
Original timeline
"Pick on someone your own size!"
―Stephen draws the Gorgonopsid's attention.
One day eight years after Helen disappeared, as Cutter and Stephen arrived at the Central Metropolitan University and headed to Cutter's office, they were approached and badgered by Connor Temple, who tried to convince them to investigate a creature sighting with him. Stephen and Cutter initially confused and deemed the sighting a hoax; but when Connor mentioned that the sighting was in the Forest of Dean, Cutter immediately decided to investigate, and he, Connor and Stephen then left. After the trio arrived at the site of the sighting, while Cutter and Connor questioned Dave Greene on it, Stephen examined the attack on a truck by the supposed creature to see what the predator was. Stephen remained convinced that it was a hoax, but became less certain after he and Cutter saw that the supposed creature had also flattened an iron fence.
Later, while the group were staying at the Eddington Hotel before heading off into the Forest of Dean in search of the creature, Connor showed Stephen his database on extinct animals, which Stephen found both impressive and somewhat pathetic. At the Hotel, the trio also met up with Home Office official Claudia Brown, who chose to join them in the search for the creature. The group then headed into the Forest, and Stephen led the search by using his tracking skills to search for signs of the creature; eventually discovering a dead cow in a tree.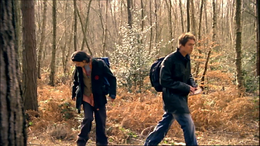 Stephen and the group continued to search the Forest for the creature as night came, eventually finding a Scutosaurus and meeting Abby Maitland and Rex. Stephen and Connor stayed with the Scutosaurus to watch it, while the rest of the team went to the Trent house; when Connor became convinced that the creature was a Dinosaur, Stephen dismissed it as unconfirmed. The rest of the team then returned and they used torches to scare the Scutosaurus into heading for safety, and Stephen and the team watched it vanish through an Anomaly in the Forest.
The next morning, after the Home Office secured the Anomaly, Stephen tried to comfort Abby and discussed the events of the night and what they had seen with her. While the others were taken to the Home Office by Claudia to sign the Official Secrets Act, Stephen and Connor stayed behind in the Forest to search for any more creatures, and Stephen found signs that there was a large predator present. Eventually, Stephen and Connor found a footprint from the predator, and Connor identified it as a Gorgonopsid. Stephen then went off on his own to track down and stop the creature, and followed the Gorgonopsid into a school it was attacking. After getting the Gorgonopsid's attention, Stephen lured it after him through the school to a fire exit, where the creature cornered Stephen and threw him through the doors and outside; knocking him out.
The following night, after Stephen recovered he drove back to the Anomaly site in time to run over and stop the Gorgonopsid, which was attacking there. Stephen then shot and killed the injured creature. The next day, after Cutter and James Lester confirmed that Helen had indeed gone through the Anomaly after she disappeared and Cutter vowed that the Anomaly crisis wasn't over, Stephen left the Home Office with the rest of the newly-assembled Anomaly research team.
Stephen and Cutter were going over Helen's research to see if she had known about the anomalies, even though Stephen was sure she would have told Cutter. Abby later sent him a text telling him that she and Connor were investigating what appeared to be another anomaly incursion. After Stephen informed Cutter, they went to save the pair from a "creature," which turned out to be a hoax caused by Connor's friends (which resulted in Connor getting fired from the team). When a real new creature attack on a pest control officer in the London Underground was reported, Stephen, Cutter and Abby went to investigate an anomaly which opened in the London Underground, after a team of soldiers sent by Lester utterly failed to deal with giant spiders pouring into the subways.
While down there they were attacked by a giant millipede/centipede ancestor. Cutter managed to distract it while Stephen and Abby escaped, though Cutter was trapped in the process. Stephen wanted to go back and rescue him, but Claudia refused. While Stephen arranged to rehire Connor, since he would know what the creature was, Stephen recklessly went back to save Cutter. Using a makeshift flamethrower as a weapon, he kept the centipede at bay while he searched for Cutter. Unfortunately, the flamethrower was sucked through the anomaly due to the magnetic field and the centipede attacked Stephen, injecting venom into him. Lying on the ground and dying from the giant centipede's venom, he saw Helen and she asked him to pass a message to Cutter, saying she was alive and waiting on the other side of the Carboniferous anomaly. When Cutter managed to escape the network of tunnels, Stephen passed on the message while being escorted to the surface. While being loaded into an ambulance Stephen asked Abby out for dinner before he passed out. The team risked their lives to get an antivenom from the centipede, which turned out to be an Arthropleura, and managed to get a sample and save Stephen's life. Stephen later came to and started recovering slowly in the hospital. When Claudia arrived and asked about Helen, Stephen said he did not remember anything due to amnesia caused by the venom and assumed he had hallucinated the encounter. Abby asked if he remembered everything else he'd said, but Stephen didn't remember asking Abby out and asked if he'd said something important, but Abby told him he hadn't.
After recovering from being bitten by the
Arthropleura
,
Abby
and
Connor
visited him as he was leaving the
hospital
. Connor told him that he never thought about one of the team getting killed until now and Stephen jokingly points out that he must have been devastated. Abby offered Stephen a lift home but Stephen, suffering from some memory loss, told them
his girlfriend
was picking him up, who had been away in the Amazon. They presumably met and Alison was suffering from jet lag. After checking out of the
hospital
, he and
the team
go to
the scene
of
another anomaly incursion
, which had resulted in the death of
a lifeguard
. Connor and Stephen joked about Stephen's bad luck with Abby and Alison. When the
anomaly moved to the
Queen Mary Reservoir
, Stephen and
Cutter
went with a
Special Forces diving team
to search the reservoir. The
Mosasaur
, which had been beaten by
Abby
and
Connor
, retreated through the anomaly and a diver is stranded on the other side of the anomaly when it closes. Stephen then stood amongst the grieving
soldiers
.
Later at the Home Office, he saw camera footage of the previous anomaly, which brings back memories of when he'd been poisoned. He confronted Cutter about Helen still being alive, and learned from him it wasn't the first time she'd appeared. He told Cutter that he should tell the others, because she'd been important to him too, but Cutter said it wasn't his decision. Later at the third anomaly recursion, he told Abby he'd got his memory back and had asked her out because he liked her, but Abby was hurt and said she'd forgotten about the whole thing.
Helen later sends a message through the anomaly on the body of the soldier, who had died from shock.
Lester
soon learned of
Helen
being alive and decides to send
Cutter
through to bring her back. Stephen helped Cutter prepare for the journey through the anomaly and anxiously awaited his return, connecting him to the present with a rope and giving him a harpoon gun to defend himself. Stephen pulled Cutter through after his time had run out and he nearly drowned due to the lifeline being cut by a mosasaur. After he was resuscitated,
Claudia
sent
Captain Ryan
and
his men
through the anomaly to recover Helen, leaving Stephen clueless on why she was sending them through. He later watched as Helen was taken away by Lester's men.
"You idiot. You've turned her into bait!"
―Stephen isn't happy about Abby being in danger
While Helen was being interrogated, the team were dealing with what at first seemed to be another creature attack, although it was only a python. Later Stephen showed up at Abby's flat to talk to her, only to find her and Connor down to their underwear because Connor had turned the thermostat up too far, causing Stephen to grow suspicious. He then told them that Helen had begun talking and claimed that a pack of
sabre-toothed cats
were going to come through
an anomaly
leading to
Matchroom Stadium
. They met up with the others, who were led to the anomaly by Helen. Helen managed to escape through the anomaly with Ryan following her and Stephen also going, but
they found themselves in the
Spaghetti Junction
of anomalies. Realizing they had lost her, they returned to the stadium. Soon after their return a flock of
Dodos
came through and Stephen helped catch them and send them back, with the exception of one
that had died mysteriously
. Stephen helped Cutter and Abby with its autopsy, but when a
Parasite
emerged Stephen trapped it in a jar where it died. Connor then reported that
two of
his friends
had stolen a Dodo, and unbeknownst to the team Tom became infected by the
Parasite.
Stephen and Cutter searched for Tom at hospitals, but eventually decided to ask Duncan what he thought Tom would do. They learned from Duncan that the Dodo had swallowed a tracking device and that Tom would probably follow the signal to the Dodo and Abby, who was doing another autopsy. Stephen was furious that she had been "turned into bait.". Eventually they cornered Tom at the football stadium, and Abby was rescued. Stephen watched as Tom died in Connor's arms.
Stephen was helping Cutter search a golf course for an anomaly where a golfer had been attacked, but were unable to find it until Cutter noticed it was in the air. Realising it was an aerial predator, Stephen scanned the skies until he caught sight of a Pteranodon swooping in towards them. Stephen assumed it was a carnivore and wanted to shoot it down, but Cutter disagreed. As they observed the circling Pteranodon, Stephen noticed Connor on the fairway and realised assumed the Pteranodon was hunting him. Stephen tried to shoot it when the Pteranodon presumably attacked Connor, but Cutter stopped him. After it was revealed Rex had been with Connor and the Pteranodon had flown off, Stephen pointed out that it needed to roost and wouldn't go far.
Satellite scans eventually revealed it on the roof of an office block and Stephen, Cutter and Claudia went after it ahead of the soldiers against Lester's permission. Stephen reluctantly agreed to use a tranquilizer gun to bring it down. On the roof, Cutter told Claudia they needed to use her red shirt to lure it, but Stephen used his instead. After two failed attempts Stephen managed to bring it down, though it's beak knocked out claudia in the process. It was transported back to the golf course, and while waiting for it to wake up so that they could send it back through, Stephen tasted its dung to see what it had been eating, disgusting the other soldiers. He then realized Cutter was right and that it hadn't killed the golfer. After the real culprits were dealt with by Cutter, Claudia and Helen, Stephen helped free the Pteranodon and send it back through the anomaly just before it closed.
Stephen: "There was no point in saying anything. It was a long time ago, in the past!"
Helen: "The past has a habit of coming back these days, doesn't it?"
―Stephen and Helen on their secret affair
After the Forest of Dean - Permian Hills Anomaly reopened and a soldier was killed by an unkwnon assailant, Stephen helped search the forest, only to find nothing. He was later at the university when Helen snuck up behind him to have a discussion. Over a cold beer she wanted him to arrange a meeting with Cutter and Lester to discuss the disappearance of three people. Stephen realised it was a creature, but Helen would not elaborate, and as she left she kissed him, telling him she missed him and he sarcastically said he was touched. Convincing Lester to go along with it, Stephen was present as Helen revealed a predator from the future had come through the Permian anomaly and was on a rampage, killing the three missing people and the soldier. After talking with Connor, Stephen learned that Abby's boss and a lion were both missing and came to the conclusion the predator was at the Wellington Zoo and went to find Abby.
He and Abby were approached by the predator but it was scared off by the Special Forces. When they went looking for the predator in the forest, Stephen joined them. stephen tried to help fight the predator, but it evaded them too easily, being too fast for the team's guns. As the team discussed what they should do, Connor realised it was a future bat using echolocation to sense their movements and went off on his own to find an oscilloscope. When the predator attacked Connor and Abby, Stephen arrived and shot the creature before it could kill them. They followed the oscillope to a storage shed containing baby Future Predators and the bodies of the missing people, only to have the predator attack. Cutter went off and killed it in a nearby greenhouse.
It was soon decided to send a group into the Permian to find the future anomaly and secure it before more predators arrived. Stephen watched Cutter, Helen and Ryan go through with the infants and watched Cutter and Claudia passionately kiss. Connor later learned from the lab that the dead predator was a male but the DNA from the blood in the lion's den was from a female. Stephen feared the mother was still out there, narrowly missing seeing her go through the anomaly due to it's incredible speed.
New timeline
In the new timeline created during the second mission into the Permian, Stephen's biography up to the mission was apparently mostly the same, except he and the rest of the team at some early point moved from the Home Office to the Anomaly Research Centre.
Soon Cutter and Helen returned from their failed mission that had seen Captain Ryan and all his men killed by the predator, which was in turn killed by a gorgonopsid, and Cutter had decided not to allow anyone else to go through. As Helen left, she revealed she had an affair with Stephen and asked him to come with her. Cutter was furious at Stephen and despite Helen's offer, Stephen flatly refused and stayed in the present. Cutter soon asked about where Claudia was, but due to the alterations to the timeline (presumably caused by the two baby predators that survived the gorgonopsid attack), Stephen nor anyone else had heard of her.
Stephen and Connor held Cutter back as he tried to go back through the anomaly, but it closed before he could escape. The team then headed back to the
ARC
, the team's base in the new timeline. Later, they learned from
Oliver Leek
that a new creature sighting had been reported in
a shopping centre
, killing two security guards, and they drove off to investigate. When they arrived at
the mall
, Stephen and the others (except Connor) armed themselves with tranquiliser guns. Once inside, Stephen tried to apologise as they searched for
the anomaly
, but Cutter refused to forgive him. they then used surveillance cameras to locate the creature. After finding the creature was a
raptor
, Stephen and Cutter soon found the anomaly in the bowling alley and began looking for the raptor. Cutter insisted that the creatures be returned alive to prevent the timeline altering again, much to Stephen and the team's dismay. Stephen and the others were startled by what they thought was the raptor but turned out to be
a cleaner
who apparently had not been evacuated. Stephen and Cutter set off the search for the raptor. While searching a laser tag arena, Stephen was pinned down by the dinosaur and pleaded for Cutter to shoot it. However, the gun jammed. Fortunately, the noises of the arena scared off the raptor. Stephen didn't believe Cutter when he said the gun jammed, thinking that Cutter wanted him dead after the revelation. They soon encountered the raptor again and Stephen tried shooting it, only for the gun to jam again. After fixing the problem he managed to tranquilise the raptor. Stephen apologised for not believing Cutter and for having his affair with Helen, and Cutter decided to forgive him. After Stephen and Cutter encountered Connor shortly after his fight with the baby raptor, they set a trap for the other raptor using the baby. However after the raptor cannabilised the younger dinosaur and Abby distracted it, Stephen decided they would have to kill it against Cutter's wishes. Stephen didn't believe the timeline had changed, but agreed only to kill the creature if he had to. The raptor escaped and the two of them had to lure it back inside the mall with motorbikes stolen from a group of teenagers. However, after the raptor was lured back in, it hitched a ride on the lift Stephen and Cutter were on and surprised them by jumping out and nearly attacking them. The two were at its mercy before Connor brought it down with a tranquilizer gun. Cutter insisted on taking the raptors through the anomaly by himself, but Stephen suspected he wasn't going to come back and went after him. Stephen managed to convince Cutter to return by telling him no matter how many times
the timeline changed, he still might never get Claudia Brown back. Unfortunately, the raptors awakened and the anomaly began closing. While running to get back through, Stephen was attacked by one of the raptors which held onto his foot while the others tried to pull him through. Fortunately he made it through shortly before the anomaly closed, cutting off the raptor's head. After heading back to the ARC, Stephen was present with the rest of the team at their introduction to the new PR person,
Jenny Lewis
, who Cutter identified as Claudia Brown.
Stephen was at the ARC when the team's new PR, Jenny Lewis, was introduced, and wasn't happy that they had someone else to answer to. He later returned to his flat to find a wounded Helen. Stephen reluctantly helped her with her wounds, and soon recieved a text telling him of a new anomaly. Despite her hope the pair could still be friends and ordered Helen to be gone by the time he got back. Upon arriving at the location he decided not to tell Cutter about Helen. While searching the building they came across a foul-smelling fog and helped rescue a firewoman from
giant Worms
Cutter suspected were from a Precambrian time period. Continuing to search for the anomaly, Stephen got lost in the fog and set the alarm on his watch to draw the worms' attention from him as he entered an elevator shaft. He called Cutter to tell him he'd found his own way up and began to climb the ladder rapidly as the elevator rose, narrowly avoiding being crushed. While trapped on the floor Stephen took down some worms and awaited help. Soon Cutter arrived as the fog began to clear. However the worms began to spawn and Stephen and the others tried to prevent them from burrowing beneath their skin before the fire sprinklers were activated. Stephen wondered if the anomalies were a challenge for humanity and if they should stop fighting the creatures and face the anomalies instead, but Cutter dismissed his idea. Stephen returned to flat and found that Helen had left as he'd asked.
"How many Valeries' are there gonna be before we start telling people what's going on?"
―Stephen begins to question keeping the anomalies secret
Stephen was present as Connor unveiled his new
anomaly detector
, but soon a creature attack was reported. While preparing to search the
Blue Sky park
for what was suspected to be a giant cat, Stephen received a text from Helen thanking him for his help however he didn't reply. Stephen found a set of tracks and told the others, however it had doubled back on them and they lost it. During the night Stephen and the others searched the nearby forest using infrared images, and came across park ranger
Valerie Irwin
, whose car seemed to have broken down. Stephen offered to take her back to her place, and along the way gave hints that there were things going on with the creature the public weren't meant to know but didn't get specific. He later heard the
park manager
screaming and spotted the creature, a
Smilodon
, on the train tracks, but Valerie distracted him and allowed it to get away. She pleaded for Stephen not to leave her on her own, so he called the others about the attack as he took her home. The next day after a trap had failed to secure the Smilodon a body was uncovered and deduced to have been done by the cat, meaning the anomaly
had been open a while. Jenny had gone to arrest
a farmer
who used to keep lions, and Stephen, Abby and Connor arrived in time to keep her from getting killed, however the farmer had no idea what the sabre-tooth was. Cutter called the group when he learned Valerie had been hiding the Smilodon for years, and Stephen shot the big cat took later after it had killed Valerie. Cutter accused Stephen of telling her false information which Stephen denied, but said he'd wished he'd told her the truth.
Stephen, Cutter and Jenny were looking into the disappearance of a teenager who had gone missing near where an anomaly had opened, and he and Cutter searched the drains leading to the canal, but were unable to find anything, only hearing a creature singing. Stephen helped the rest of the team search the canal by boat and killed a shark attacking Jenny. Upon examination of the dead creature, it was concluded that it was from the future and that it hadn't killed Lucien. Stephen suspected there was another one that had killed him, but Cutter disproved all his ideas, telling Lester it was probably a marine mammal. Lester sent the team to search the canal again, and Cutter decided to search other places despite Stephen's objections. However Abby was taken by the creature while Cutter was trying to lure it out, and Stephen helped search but they soon gave up hope despite Connor's objections. A furious Lester fired Cutter and put Stephen in charge, who was reluctant to do so, but asked for a remote control submarine as he was sure the creature was still in the canal. While looking through a large drainage pipe the anomaly reopened and Stephen sped up the search, and distracted the creature as it prepared to attack Cutter. Stephen quickly grabbed guns and dived into the water, making his way through the pipe and killed all the creatures before they could kill Cutter or Lucien. Connor had followed Abby and a larger version of the creature through the anomaly, and Cutter and Stephen went after them and killed the creature. Upon returning, Lester blamed Stephen for looking in the wrong place and nearly causing everyone else to die. Stephen reluctantly agreed with Lester, and Cutter told him that he'd only been lucky, which Stephen muttered he was.
"You sound like Helen."
―Cutter thinks Stephen is coming around to think of him the same way Helen used to
Stephen arrived back at his flat to once again find Helen there, this time taking a shower. Helen told him that someone in the ARC was working against the team with a hidden agenda, implicating Lester and telling him Cutter was aware of the situation and hadn't told him. As he prepared to meet the others, Helen kissed him goodbye. While unloading their equipment, Stephen gave Connor advice on what to do with Abby after he'd told her he loved her, and refused to say anything for him. After using an experimental rover to explore the anomaly, Cutter suspected it was the
Silurian
and spotted a girl trapped on some rocks. Cutter and Stephen decided to rescue her and went through, wondering what was scaring some
Giant Millipedes
and coming across some military equipment in the sand. Cutter suspected it was the
Cleaner
they'd encountered in the mall, and Stephen accused Cutter of of keeping him in the dark because Cutter himself wasn't sure what was
going on, which Cutter noted made him sound like Helen. Continuing on, they were pursued by something underneath the sand, barely making it onto the rocks. They prepared to go back with the girl, Taylor, however they were unable to reach the closing anomaly because of what was in the sand. Stephen suggested they find somewhere with water, and while looking for a new anomaly Stephen spotting something glinting in the distance but dismissed it. A sandstorm swept up as a new anomaly was detected, and after sheltering themselves they encountered the Cleaner, who attempted to take their supplies before Cutter tricked him into getting himself attacked by a sand creature. Stephen demanded to know who he was working for, suspecting Lester, whoever the Cleaner refused to talk before he was dragged beneath the sand. While making their way to the new anomaly Stephen was attacked by the mysterious creature and dragged under the surface, but Taylor managed to bring the creature to the surface, revealing it to be a
Giant Scorpion
. Stephen hung from its mandibles as another fought with it, and eventually fell free and escaped with the others through the anomaly back into the present, giving Lester the cold shoulder when they met with him.
Another anomaly was detected on the
M25
and a mammoth had come through. Stephen knew they needed more firepower and went to search his car for a bigger gun when Helen appeared and told her to stay down as the others went by. Stephen told her Cutter did know about the conspiracy, and Helen suggested they take the anomaly operation public. Stephen noted they would need hard evidence, and wanted to give Cutter another chance and let him make the call. Helen reluctantly agreed but said Cutter wouldn't listen but Stephen was sure he would since it wasn't personal. However Cutter refused to listen to Stephen and fired him, and accused Stephen of being in love with Helen. Stephen returned to the ARC and was fascinated by the
Columbian Mammoth
they had caught, and tried to convince Abby that taking the anomalies public was for the best however Abby refused. Stephen tried reasoning with Cutter but he still refused to hear him out and Stephen said it was no wonder Helen had come to him, at which Cutter punched him. Stephen left and went home and told Helen what had happened. Helen was amused and Stephen thought all she cared about was Cutter's reaction, but she said it wasn't. Stephen and Helen then kissed, and later Stephen caught Helen finishing a phone call which sounded suspicious, and Helen claimed that she was going to see a journalist about the anomalies, which Stephen seemed to accept.
"Sorry mate. I'm doing this one."
―Stephen is prepared to die for the others
Stephen was annoyed to recieve a phone call from a frantic Lester informing him of a creature attack at a
Holiday Resort
and that the rest of the team was missing. On the condition that none of Lester's men are around, Stephen agreed to help. At the resort, he arrives and encounters a
Silurian Scorpion
, but after some struggling to get it into position, Stephen managed to tie it up to the pier and called Lester, telling him "it's done". Stephen then stayed on the beach for some time before he recieved another phone call, this time from Helen, who wrongly told him that Cutter and the others had all been killed and that she was being held captive by Lester. She asked for his helped, and devastated, he threw his mobile into the sea and travelled to
Leek's hideout
.
After locating Helen, he denied her option to go through an anomaly and hide until they can fight back against Lester and decided to end it. While leaving, he spotted Cutter sitting on his own, and was furious that Helen lied about seeing Cutter die. He was still angry with Cutter too, but learned from him that Helen had indeed helped Leek, the actual traitor, gather all kinds of predators which were all in the lair and would kill everyone if they escaped. The three agreed in working together to lure the creatures into a single room so that they would kill one another.
But after setting things in motion, Helen was attacked by a raptor and fell to the ground in a doorway. Stephen shot the raptor twice, accidentally damaging the door locking mechanism in the process. After managing to save Helen, they found out the door could not close - not from the outside. Cutter volunteered to sacrifice himself, telling him and Helen to save themselves and reminding Stephen that Lester wasn't the enemy. However, Stephen knocked him down and went inside to lock the door himself. Stephen denied Cutter's demand to open the door, saying he couldn't allow the creatures to get back out, and asked him to tell Abby and Connor to stay out of trouble. He was killed by the creatures that surrounded him and presumably tore him apart. It is unknown which exact creature killed him although it is suggested by some that all of the creatures killed him at the same time.
Other references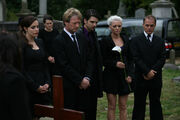 Sometime later the ARC team hold a funeral service for Stephen. At Stephen's funeral, Cutter realizes Claudia Brown is gone forever, just like Stephen and tears up a picture of him and Claudia and puts it on Stephen's grave. After the team leaves, Helen then arrives and puts a fossil Ammonite on Stephen's grave and tells him "Be patient, Stephen. Things can change." A group of Cleaner Clones then appear at the graveyard and Helen shows an evil smile.
"Cutter closed his eyes, and he saw Stephen's face."
―A description from the novel, during the Entelodon rampage, down Oxford Street.
Stephen was mentioned several times. After his death, the ARC team drafted in a new SAS soldier, named Jake Hemple. His job was to make sure that no other members of the ARC's Team were killed. In the novel, it was revealed that Cutter blamed himself for Stephen's death, since he believed that it was his fault that he didn't sacrifice himself, and not Stephen.
Cutter, feeling responsible for his friend's death, has a flashback of Stephen's death. Jenny then comes in and interrupts him, telling him that he shouldn't blame himself for Stephen's death. Cutter then remarks that it was Helen's fault, but he can't help feel responsible. Later, as Lester was briefing Captain Becker that his job is to protect the ARC team, tells him, "We can't have another Stephen Hart". Later when Cutter and Abby were on the streets searching for the Pristichampsus, Abby remarks that "Stephen would've known what to do.", causing Cutter to feel distraught again. Abby then quickly apologizes to Cutter. At the end of the episode, Connor remarked "Stephen would have loved this one", to which Cutter replied "He probably would have liked Dr. Page too."
Cutter, after seeing Helen's clone of him, asks her, "Please don't tell me you did this to Stephen." Helen responded by saying that the clones are never really the individual, dodging his question. Either way, she would have needed a DNA sample, which she likely did not have.
Matt Anderson mentions Stephen in his list of 'brilliant people' who the ARC had lost, along with Cutter and Sarah during his meeting with the new ARC team.
Appearances
Canonical
Non-canonical
Trivia
References
↑

Stephen's grave reads Stephen James Hart.

↑

Stephen's grave confirms his death date as 4.3.2007.