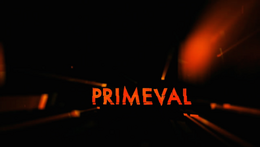 Primeval is a British science fiction drama television show produced by Impossible Pictures for ITV. It was created by Tim Haines and Adrian Hodges. It was first broadcast in the United Kingdom on 10th February, 2007, running for five series finishing, on 28th June, 2011.
Premise
Primeval follows a secret government research team, which is tasked with investigating doorways through time and space called Anomalies which are opening and allowing deadly creatures from across Earth's distant past and future to cross into and run rampant in the present. While predicting and discovering more about the Anomalies, the team must also contain the creatures and send them back through to their time periods whenever possible.
Cast and characters
Latest cast
Former cast
Series
The first series of Primeval focuses on the newly-founded research team's attempts to combat the Anomalies and learn about and predict them. It also initially focuses on team leader Nick Cutter's search for answers on how the Anomalies are linked to the disappearance of his wife Helen eight years ago, and then later on what Helen's agenda is and who's side she's on. It is ultimately discovered that Helen merely wants to know more about the Anomalies for herself and does not care about the damage they are causing. At the end of the series, after returning from a mission into the past, Cutter discovers that team government official Claudia Brown has been erased from the timeline while he was in the past.
The second series of the show focuses on Cutter's struggle to cope with losing Claudia Brown and with the arrival of the team's new PR guru Jenny Lewis, who seems to be Claudia's doppelganger in the new timeline. It also focuses on Helen Cutter's and Oliver Leek's mysterious plans for the Anomalies and the creatures, and on Stephen's relationship with Helen and Connor's with Caroline Steel; and how this affects Connor and Stephen's other relationships with their friends. Leek's and Helen's plans are ultimately stopped and Leek killed, but Stephen is killed in the process.
In the aftermath of Stephen Hart's death, the ARC team go through several challenges and up against enemies; including Christine Johnson's plans for the Anomalies and attempts to take over the ARC, and Helen's deadly mission to save the future by attempting to destroy the ARC and then later to stop humanity from evolving. Johnson and Helen are both ultimately killed, but Connor, Abby and new team leader Danny Quinn are left marooned in the past.
Series 4 focuses on how greatly the ARC has changed in Connor and Abby's absence and on the two's changing relationship; and on new team leader Matt Anderson's mysterious mission and his attempts to protect Victorian time traveller Emily Merchant from the murderous Ethan Dobrowski. Eventually, it is revealed that Matt is secretly from the future and has been sent back to stop the ARC from using the Anomalies to destroy the planet, and that a massive phenomenon with the Anomalies will soon occur.
Shortly after the events of Series 4, Philip Burton fully recruits Connor into his New Dawn project with the Anomalies, while Matt and the newly-recruited Abby secretly work against them to stop New Dawn from destroying the future. The fifth series initially focuses on how Connor and Abby's opposing views and allegiances affects their relationship, and then later on the ARC team's efforts to stop Philip and New Dawn. New Dawn is ultimately destroyed, but Matt then encounters a battered double of himself telling him he must "go back".
Cancellations and renewals
On 15 June, 2009, after the broadcast of Series 3 of the show, ITV announced that they had cancelled the show and that there would not be a fourth series. However, on 29 September 2009, it was announced that a deal had been struck between ITV and fellow television channel Watch to revive the programme, and two more series of the show were produced back-to-back and transmitted between January and June, 2011.
Fans have hoped following the full broadcast of Series 4 and 5 for the original Primeval show to be renewed for a sixth series. However, the producers claimed that it would not be produced if at all until 2013, and have expressed doubt that there will be a Series 6. With 2013 past, it seems unlikely that Primeval will get another series.
Spin-offs
A series of novelisations based on the first nine Primeval episodes. They are considered non-canon.
A series of novel Primeval stories.
An interactive web series in which you join the ARC team and must complete one mission each week. It ran parallel to Series 3.
A small web series explaining the story between Episode 3.10 and Episode 4.1.
Two small comics featuring the ARC team, set between Episode 4.6 and 4.7.
A Canadian spin-off of the original Primeval show, following another Anomaly research team located in Vancouver.