Home
Talk

1
1,314pages on
this wiki
Featured Article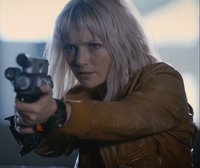 "

This is wrong. No human being in history has seen these creatures alive before us... we've been given the most amazing gift. And how do we repay that? That privilege? By killing them because they're... inconvenient. What does that say about humans? About us? Lester, after all we've done here, is this how we're going to be remembered?

"

— Abby Maitland to James Lester on a decision to euthanise the ARC's captive creatures.[src]
Abigail "Abby" Sarah Maitland was a gutsy zoologist and a member of the Anomaly Research Centre, notable for her love for and skill with animals and the creatures. Abby was the elder sister of Jack Maitland and is believed to currently be the wife of Connor Temple.
Abby was born circa 1985, and was apparently abused as a child. As a child, and before her father's death, Abby's parents took her to the Galapagos Islands, where she developed a love of reptiles that would strongly remain with her in her later years. She was later joined by a brother, Jack.
As a young adult, Abby started university, but she left after only one term after getting her dream job as a zookeeper. By her early 20s, Abby had become a zookeeper at Wellington Zoo.
---
Read more featured articles! • Nominate a future featured article here!
Create an Article!
Here you can create an article. First, please make sure the article you are creating already exists and also make sure it is relevant to the wiki's topic! DO NOT make any spam articles or there will be consequences! Thank you!
Poll of the Month!
Which Primeval series do you prefer?