"Its a prototype, it's not meant to be sexy."
This article is a stub. Please help the Anomaly Research Centre by expanding it. Thanks!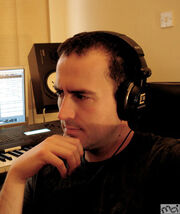 The Primeval Theme Tune is the music played during the title sequence and the end credits. The theme was composed by Dominik Scherrer. During Series 1, Series 2 and Series 3, the theme tune and title sequence are the same with small changes in the visuals due to casting. For Series 4 the theme tune and title sequence go under more radical changes - the theme itself is recomposed by the series composer Stephen McKeon, and it eliminates the eerie call at the end to accommodate the shorter title sequence.
The theme appears on PRIMEVAL (Original Television Soundtrack).