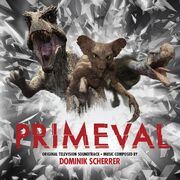 The Primeval Original Soundtrack or OST is the release containing the music composed and performed by Dominik Scherrer for Series 1, 2 and 3. On 25 August 2011, MovieScore Media announced that they would be releasing the soundtrack.[1] The soundtrack was released on 20 September 2011, it is available in CD format and digital format from iTunes and Amazon.
The soundtrack only has about a third of music made by Scherrer, comprised of the main themes from Series 1 and 2. A lot of incidental music from those series and the themes from Series 3-5 are not included. See Unreleased Soundtrack for a near complete list of themes and see Non-Original Music for real songs/music created by other artists. 
Tracklist
* indicates that only part of the track was played in an episode, otherwise the full version or majority of the track was played.
Trivia
Several tracks share instrumental segments:

Primeval Theme ends with the Primeval Titles.
Tom Dies ends with a segment of Helen Where Are You?.
Carnivorous Worms has a segment of Columbian Mammoth in the middle.
Sabretooth Battle has the start segment of Back to the Cretaceous near the end.

The Dracorex score was co-composed by Dominik Scherrer and Angus Moncrieff.
References