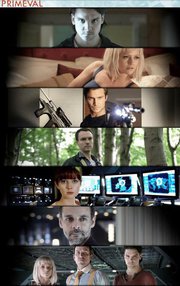 Primeval ARCadians is a fan-run Primeval page on Facebook.
The page was founded on November 2nd, 2010 and the first post on the page featured an image released by Andrew-Lee Potts from Episode 4.4.
There are currently three admins on the page, and they are known for working hard to collect reliable information from different sources to provide Primeval fans with the latest news. They are also known for posting news on the Primeval cast, perhaps most notably, news concerning fan-favorite "Pottsy."
After Episode 4.2 aired on ITV1, one of the Primeval ARCadians admins checked to see if the creature sighting websites Connor Temple viewed while using the computer at Jess' Flat were registered domains; they were not already registered, so she registered them to redirect to the Primeval ARCadians page.
Following this, several magazines featuring Primeval have noted that the URLs in question lead to the page, and wrongly assumed that the producers of the show had done this.
Gallery
Coming soon...
Trivia
Primeval Wiki administrator, ZEM is a fan of this page.
The current Primeval ARCadians page image is a combination of BBC America promotional images.
Source
Ad blocker interference detected!
Wikia is a free-to-use site that makes money from advertising. We have a modified experience for viewers using ad blockers

Wikia is not accessible if you've made further modifications. Remove the custom ad blocker rule(s) and the page will load as expected.