Primeval: New World
Comments

22
1,383pages on
this wiki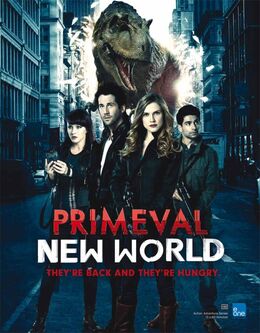 « 

"They're back and they're hungry."

 »

— Season tagline
Primeval: New World is a Canadian television programme, and a spin-off to the original British Primeval series. New World is set in Vancouver, Canada, and follows a new Anomaly research team: Evan Cross' Special Projects Group.
Production
Space originally announced on 7 March, 2012 that production for Primeval: New World was underway. One season of Primeval: New World containing thirteen one-hour episodes was subsequently produced and developed in association with Space and Impossible Pictures.
Premise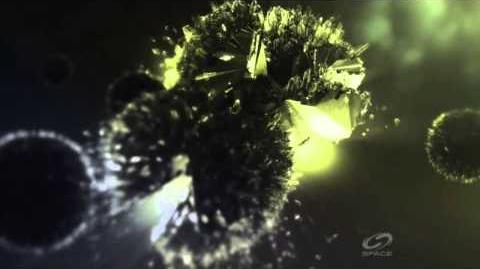 Primeval: New World follows the Special Projects Group of Cross Photonics - a team of animal experts and scientists led by Cross Photonics visionary inventor Evan Cross - and their investigation into the Anomalies and their attempts to combat the creatures which come through them and put them back where they belong to stop history from changing.
Season 1
The first and only season of Primeval: New World, Season 1 focuses primarily on how the Special Projects Group members' protects the public from the creatures and Anomalies, as well as discovering the events, secrets and circumstances surrounding the 2006 Albertosaurus incursion which led to the team coming together in the first place. The season also has a secondary focus on Colonel Henderson Hall's secret plans for the Anomalies and the creatures through Project Magnet.
Episode title
Episode
number
Director
Writer(s)
Airdate
Main creature(s)
The New World
1
Martin Wood
Judith Reeves-Stevens
Garfield Reeves-Stevens
29 October, 2012
Pteranodon
Utahraptors
Sisiutl
2
Andy Mikita
Judith Reeves-Stevens
Garfield Reeves-Stevens
5 November, 2012
Titanoboa
Fear of Flying
3
Mike Rohl
Jon Cooksey
12 November, 2012
Jurassic Beetles
Angry Birds
4
Andy Mikita
Gillian Horvath
19 November, 2012
Terror Birds
Undone
5
Mike Rohl
Sarah Dodd
26 November, 2012
Lycaenops
Clean Up on Aisle Three
6
Amanda Tapping
Peter Hume
3 December, 2012
Daemonosaurus
Babes in the Woods
7
Andy Mikita
Katherine Collins
10 December, 2012
Ornitholestes
Truth
8
Amanda Tapping
Gillian Horvath
17 December, 2012
Pachycephalosaurus
Albertosaurus (hallucination)
Breakthrough
9
Andy Mikita
Judith Reeves-Stevens
Garfield Reeves-Stevens
22 January, 2013
Triceratops
The Great Escape
10
Amanda Tapping
Dennis Heaton
29 January, 2013
Terror Bird
The Inquisition
11
Martin Wood
Jon Cooksey
5 February, 2013
The Sound of Thunder: Part 1
12
Martin Wood
Peter Hume
12 February, 2013
Brontoscorpio
The Sound of Thunder: Part 2
13
Martin Wood
Gillian Horvath
Katherine Collins
19 February, 2013
Albertosaurus
Cast
Main cast
Guest cast
Broadcasters
United States of America - SyFy and Hulu
Poland - Sci-Fi Channel
Slovenia - Sci-Fi Channel
Croatia - Sci-Fi Channel
Kosovo - Sci-Fi Channel
Macedonia - Sci-Fi Channel
Serbia - Sci-Fi Channel
Montenegro - Sci-Fi Channel
Bosnia Herzegovina - Sci-Fi Channel
Albania - Sci-Fi Channel
Deleted scenes
There were some shots, clips and scenes that were included in some airings of Primeval: New World but omitted from others:
The New World - In the UK version of the episode, there was a deleted scene where, after returning to the Tank from the Anomaly hunt with Drake in Stanley Park, Evan has a more extended flashback of the 2006 Albertosaurus incursion. Also, due to this, the flashback to the 2006 incursion at the end of The New World is shorter than in the Canadian airing.
Clean Up on Aisle Three - In a deleted scene available on the UK release of the episode, after the Canadian Tire security guard's body and the Hindu artefact are found, Dylan sings a Hindu lullaby as Mac and Evan watch, then explains the song's significance to them.
Babes in the Woods - In the UK version of the episode, there is an extra, epilogue scene at the end, in which Ken Leeds and Major Douglas discuss Leeds' loyalties at the military laboratory.
Cancellation
On 21 February 2013, The Hollywood Reporter reported that Primeval: New World had been cancelled after a single season. Low ratings for the series caused Space and Bell Media to decide against renewing the show for a second season. However, attempts have been made to try and change the decision to cancel Primeval: New World and get the show renewed for a second season.[1]
Trivia
The New World season was split into two parts, the first part consisting of episodes 1 - 8, and the second of episodes 9 - 13.
Primeval: New World has not featured any creatures from the future, excluding the ARC team from the near future in The Sound of Thunder: Part 2.
Connor Temple is the only character form the original Primeval show to make an appearance in Primeval: New World.
Gallery
References