"What I need to do is to finish this!
And then... then I need to fix the detector."
This article is currently under construction. You can help Anomaly Research Centre by expanding it.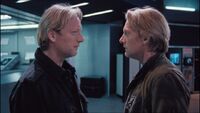 "Two versions of Cutter; sounds like some kind of nightmare"
This article is about the UK Police seen in Primeval, not the Vancouver Police seen in Primeval New World.
« 

"Can I just say that I think the Police do a fantastic job and you know, the occasional lapse into cliches, is completely understandable in the circumstances."

 »

— Connor Temple's thoughts on the Police
The Police were the British civil force, responsible for the prevention and detection of crime and the maintenance of public order.
Original timeline
TBA
TBA
Post-original timeline
Around 1995, Patrick Quinn disappeared through an Anomaly at the Brooks house, and the Police subsequently investigated but found nothing. Patrick's brother: Danny Quinn joined the Police in hopes that he could one day find his brother. (Episode 3.2)
Several Policemen stopped traffic and reporters when, unknown to them, there was a Mammoth on the M25. They let the Anomaly Research Centre team pass through the road block. After the mammaoth had been captured, they appeared to be rushing to the scene, presumably to help any injured people or clear the motorway.
TBA
Other references
TBA
Oliver Leek from the ARC instructed the Police to stay away from the Castle Cross Shopping Mall as there was a Raptor incursion there.
Peter Campbell was going to call the Police after Connor had run through his theme park with a gun and mistakenly shot at him, thinking he was a Smilodon, however Jenny had already called the Police and asked them not to take any further action.
The ARC covered up Taylor Craig's Anomaly disappearance by saying the Police and emergency crews had worked tireless through the night to rescue her from a worksite hole. 6NEWS presented the story.
When Danny kicked down a door to enter a cabin, he stated "Only bit about being a copper, I liked".
Darren and Steve initially thought the ARC team were Policemen.
When Patrick Quinn blamed Danny for his own disappearance saying he never rescued him, Danny rebuffed saying that he had joined the Police and the ARC just to get Patrick back.
Appearances
Ad blocker interference detected!
Wikia is a free-to-use site that makes money from advertising. We have a modified experience for viewers using ad blockers

Wikia is not accessible if you've made further modifications. Remove the custom ad blocker rule(s) and the page will load as expected.