Pachycephalosaurus
Comments

0
1,313pages on
this wiki
Pachycephalosaurus is a genus of pachycephalosaur that lived in what is now North America during the Late Cretaceous period.
Pachycephalosaurus is shown to be a highly curious creature, following several humans and investigating reflections in glass. However, it can also be highly aggressive, as it attacked its reflection in glass numerous times when it mistook it for a rival Pachycephalosaurus.
Pachycephalosaurus is shown to use its domed skull to attack opponents with a powerful headbutt. Its diet apparently also consists of a natural hallucinogen, which can be passed onto another creature by physical contact with a Pachycephalosaurus' mucus. Though non-fatal, the hallucinogen is known to induce hallucinations in humans which appear to greatly worsen over time unless treated. (Truth (New World Episode 1.8))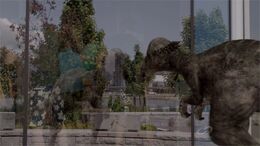 In the Cretaceous,
Helen Cutter
,
Jenny Lewis
, and the men assigned to help them, watched as a Pachycephalosaurus was hunted, killed and eaten by a male
Tyrannosaurus Rex
. According to Helen, the Pachycephalosaurus used its domed forehead for display rather than head-butting.
A Pachycephalosaurus came through an Anomaly to Vancouver in the present day and began investigating the area. It headbutted and smashed numerous windows and other reflective glass surfaces throughout the area when it mistook its reflection in them for another, rival Pachycephalosaurus.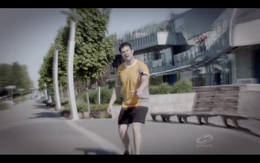 The Pachycephalosaurus was eventually tranquilised by Mac Rendell, and shortly after the unconscious creature sneezed the natural hallucinogen from its diet onto Evan Cross. Ken Leeds subsequently took the Pachycephalosaurus away and secretly had it sent to Project Magnet's research laboratory.
At Project Magnet's research lab, the Pachycephalosaurus was subjected to several experiments, including what appeared to be brain surgery or brain vivisection, until at some point it apparently died from the experiments.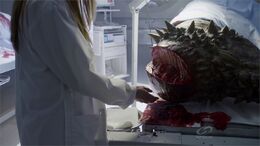 Helen Cutter stated in Extinction Event that Pachycephalosaurus only used its domed skull for display, but in Truth, Pachycephalosaurus was shown to use its domed skull to attack and headbutt opponents.