The New Westminster train yard was a large warehouse and yard that contained numerous vintage railway rolling stock eg; locomotives and carriages. It was located in Vancouver, Canada.
History
According to Evan Cross, the warehouse and yard were set up to be a railway museum but never properly got finished. At some point after abandonment, Blake and Skeezer started growing marijuana plants in one of the disused carriages in the yard. They set up a low tech security alarm to detect intruders. Skeezer, Blake and their drug courier appeared to be living in other carriages in the warehouse.
An Anomaly leading to a prehistoric forest, opened in the yard and several Titanis walleri came through. The Special Projects Group detected the Anomaly and traveled there to investigate. When Evan and Dylan Weir arrived, they were initially held hostage by the drug dealers but they convinced Skeezer to let Evan search the warehouse for Terror Birds.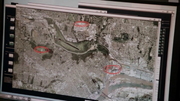 Later on, Blake was killed by one of the birds and Skeezer was tranquillized. The SPG captured all the birds and Project Magnet sealed the site, returning all but one of the birds through the Anomaly.
Ad blocker interference detected!
Wikia is a free-to-use site that makes money from advertising. We have a modified experience for viewers using ad blockers

Wikia is not accessible if you've made further modifications. Remove the custom ad blocker rule(s) and the page will load as expected.