Mesosaurus (meaning "middle lizard") is an extinct
genus
of
reptile
from the
Early Permian
of southern
Africa
and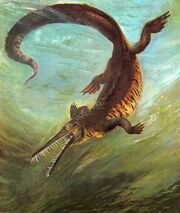 South America.
Mesosaurus was one of the first reptiles to return to the
water
after early
tetrapods
came to land in the
Late Devonian
or later in the Paleozoic
.
It was around 1 metre (3.3 ft) in length, with webbed feet, a streamlined body, and a long tail that may have supported a fin. It probably propelled itself through the water with its long hind legs and flexible tail. Its body was also flexible and could easily move sideways, but it had heavily thickened
ribs
, which would have prevented it from twisting its body.
Episode 1.1
A Picture of Mesosaurus is on the wall of
Nick Cutter's
lab at the
Central Metropolitan University
 as
Stephen
walks into the lab.
Ad blocker interference detected!
Wikia is a free-to-use site that makes money from advertising. We have a modified experience for viewers using ad blockers

Wikia is not accessible if you've made further modifications. Remove the custom ad blocker rule(s) and the page will load as expected.