Welcome to the Anomaly Research Centre.
The wiki dedicated to the British TV series; Primeval and its Canadian spin-off; Primeval: New World
---
This wiki has 1,355 articles and 6,359 images since its creation on January 18, 2008.
Administrators • Exclusives • Manual of Style • Rules • Uploading policy • Video policy • Help
What are we?
The Anomaly Research Centre is a website that brings together everything that was in the TV series' Primeval and Primeval: New World.
What is Primeval? Primeval is a British television sci-fi drama that premiered on ITV in 2007.
The series follows a secret government research team, which is tasked with investigating doorways through time and space called Anomalies which are opening and allowing deadly creatures from across Earth's distant past and future to cross into and run rampant in the present. While predicting and discovering more about the Anomalies, the team must also contain the creatures and send them back through to their time periods whenever possible.
On this wiki, anyone can contribute by expanding and creating articles relating to the "Primeverse".
We also have a chat room and a forum for users.
Featured article (June - July 2015)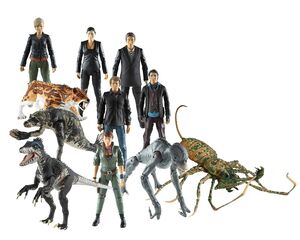 Character Options are a company that produce high quality and collectable toys and action figures.
Between 2007 and 2008, Character released a number of Primeval-related merchandise, with the main characters, and a couple of creatures, from Series One and Two being produced as 5" action figures (5' to 5.5") and at least four other toys and devices were also made. Character Options did not continue to merchandise for Primeval after Series Two, reasons still unknown. (Read more...)
---
Read more featured articles!
•
Nominate a future featured article here!
Forum Activity
Join the Chat
Featured images
- The infamous Albertosaurus rampaging in London[1]
Featured video
The Gorgonopsid from Episode 1.1.
Need help?
If you are stuck or need help with editing or anything technical, message
Lythronax
,
TroopDude
or
ARC Member
! We will be able to help! Thank you in advance!
Create an article!
Here you can create an article. Please make sure that your intended article, does not already exist and also make sure it is relevant to the wiki's topic! DO NOT make any spam articles or there will be consequences! Thank you!