Liopleurodon
Comments

0
1,314pages on
this wiki
Liopleurodon is a large marine reptile from the Late Jurassic period.
Facts
Liopleurodon are bullet-resistant animals, but due to the warmer conditions of their home in the Jurassic, if a Liopleurodon stays in colder seas (such as the present day Atlantic Ocean) for too long, it will die from the cold conditions. (The Lost Island')
Some Liopleurodon live in pods of three or so, generally not attacking one another. When confronting other large objects in the water, they will react aggressively by ramming and biting. They have been witnessed to rub their bodies along smaller objects to try and get a reaction to see if the object is alive before eating. If the object is moving, however, they take it for food and will devour it immediately. (Episode 5.2)
A Liopleurodon came through one of the
Anomalies
on
Guns Island
into the
Atlantic Ocean
in the
Present
, where it attacked and sank a trawler boat. The
ARC team
later encountered the Liopleurodon in the oceans, and it was resistant to bullets they fired at it but was dying from the Atlantic Ocean's cold conditions. Presumably, the Liopleurodon eventually died due to the colder conditions of the water in the present day Atlantic Ocean.
A Liopleurodon came through an Anomaly into the North Sea in the Present, where it attacked a Nuclear Submarine several times; slamming into it, biting down on its tracking device and jamming its propeller. When the submarine was pulled through the Anomaly, the Liopleurodon followed it through back into its home in the Jurassic oceans.
In the Jurassic, three Liopleurodon attacked the submarine, repeatedly slamming into and scraping against it. One of them investigated a
Bathyscaphe
from the submarine until
Matt Anderson
and
Abby Maitland
turned the bathyscaphe's lights off to make it seem dead. Eventually, when the team ejected a
Swimming Theropod
from the submarine, one of the Liopleurodon devoured it, distracting the creatures long enough for the submarine to return through the Anomaly.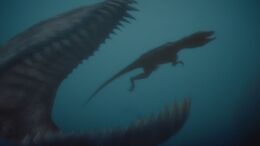 Trivia