Future Shark
Talk

0
1,215pages on
this wiki
This article's title is a nickname, based upon conjecture or similar. The correct title is unknown.
"Unless I miss my guess, we're looking at the future evolution of the shark."
The Future Shark is an unnamed shark species from the Future. They apparently live by Future Beaches inhabited by Mer Creatures.
Brown in color, Future Sharks are close to the size of an average car and have a similar anatomy to modern day sharks. The Future Shark also has an extendable proboscis in its jaws, described as a tongue covered in teeth, which it uses to grab prey and pull it into its jaws.
A Future Shark came through an Anomaly to the Isle of Dogs in the present day. The following night, while the ARC team were scouring the Isle's canal for creatures, the Future Shark started swimming towards Jenny Lewis when she fell into the water. However, Stephen Hart managed to shoot and kill the Shark before it could reach Jenny.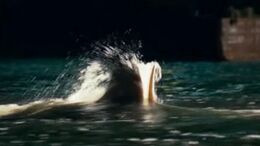 The Future Shark's body was subsequently taken back to the
ARC
, where the team discovered from its proboscis that it was from the Future.
Nick Cutter
then cut the Shark's body open, and discovered from the contents of its stomach that it wasn't the creature responsible for
Lucien Hope
's disappearance.
This is the second creature to use its tongue as a weapon, the other being the Future Bird. Both come from the future.
The website incorrectly states that the shark attacked a party boat.