Fire and Water
Comments

0
1,314pages on
this wiki
"

Now, not only do we have to battle dinosaurs on not one, but two continents, but we must also avoid getting kidnapped by a crazed megalomaniac! How reassuring!

"
Fire and Water is a spin-off book for the ITV science fiction series Primeval.
When the Anomaly Detector begins detecting anomalies overseas, the team are faced with the most unusual contrast of situations yet. On a safari park in South Africa, members of staff are going missing, and strange creatures have been seen battling rhinos and elephants in the park. Danny and the team fly to South Africa to investigate, when an anomaly opens in Maidenhead.
The team now face a battle with the anomalies on two different continents, and must fight to control the situation before it grows out of control.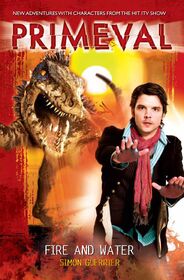 Characters
Edit
Creatures
Edit
Fire and Water is the 1st book not to have Nick and Jenny in it and is the 1st book to feature Danny ,Page and Becker.
This is the only Older Novel not to have any prehistoric mammals.
This is the only Older Novel to have a sauropod.
This is the last Older Novel to be written.
This is the only book to have a Triassic creature.
This is the second time that Lester goes through an anomaly.
Most of the creatures in this novel appeared in Walking With Dinosaurs.
The Giganotosaurus from 3.4 is mentioned.
The Velociraptor in the book is said to be 6 feet tall when they are only 2.5 feet in actuallity, this may either be an over-exaggeration by the author or a misidentification.
Postosuchus is refered as either a dinosaur or a crocodilian. In fact, Postosuchus was a Raisuchian.
User Reviews
Edit