"You should get out more. Go to a bar, meet a nice girl.
Life will seem a lot less confusing."
This article is non-canonical - from outside of Primeval canon.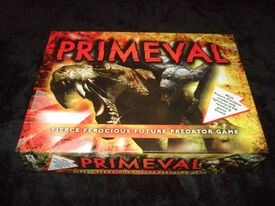 The Fierce Ferocious Future Predator Game is a dice board game based on Primeval.
Description
The future, past and present are colliding. Mysterious anomalies are opening up across the earth allowing predators from the future to travel between time dimensions.
To close the anomaly and defeat the Future Predator, you must travel around the revolving board with light/sound FX, through four different sectors.
But be careful, if an anomaly opens in your sector and the Future Predator, it could attack or worse still, you could be dragged into and trapped inside the anomaly.
The winner is the first person to complete this perilous journey.
Contents include:
1 x Game board
1 x Anomaly central feature with light/sound FX - in 2 parts
1 x Future Predator model
4 x Scenery dividers and plastic supports
4 x Playing pieces (Nick Cutter, Connor Temple, Abby Maitland or Claudia Brown)
2 x Dice
1 x Leaflet
(1 x Packaging Box)
Gallery
Ad blocker interference detected!
Wikia is a free-to-use site that makes money from advertising. We have a modified experience for viewers using ad blockers

Wikia is not accessible if you've made further modifications. Remove the custom ad blocker rule(s) and the page will load as expected.