Embolotherium
Comments

5
1,313pages on
this wiki
Embolotherium is a genus of brontothere that lived during the Eocene epoch.
Embolotherium is an extinct genus of brontothere that lived in Mongolia during the late Eocene epoch. It is most easily recognized by a large bony protuberance emanating from the front end of the skull; a horn used for display and for keeping away predators such as Andrewsarchus. This process resembles a battering ram, thus providing the reason for the name Embolotherium, but the horns have two holes which were probably covered by skin.
Female Embolotherium are distinguished from males in that females' bone-like protuberances are more heart-shaped. Males are also shown to be vicious and aggressive, and can be easily provoked into chasing and attacking other moving things. Females are also fiercely defencive of their young, and become brutal and vicious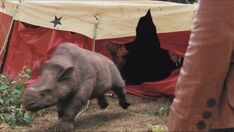 when their calves are threatened or in distress.
A herd of Embolotherium came through an Anomaly into a forest in the present day near a campsite. While riding through the countryside, a quad-biker found a Embolotherium calf and startled it, causing an adult to come and kill him.
Later, a large, male Embolotherium charged at a groom-to-be tied to a tree. He managed to get back to the campsite, only to find himself in a tent with an injured Embolotherium calf crying for help. In response to the calf's cries, adult Embolotherium began to gather round the tent. Connor Temple, Abby Maitland, Sarah Page and Hilary Becker also found a huge herd of Embolotherium gathered in a clearing.
Connor kept a large, aggressive male Embolotherium distracted by luring it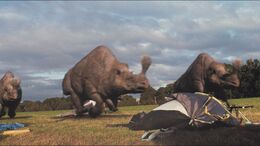 with a quad-bike. The females gathered around the tent followed the male, but the mother of the injured calf returned in response to the calf's cries. Sarah managed to keep the mother Embolotherium distracted long enough for Abby and the groom to free the calf and return it to the mother. The female Embolotherium then began returning through the Anomaly, but it closed before the last four females could go through; marooning them and the male, which was still chasing Connor, in the
Present
.
The male subsequently triggered a stampede towards the campsite among the other remaining Embolotherium. Just as the Embolotherium reached the camp, Helen Cutter used an Anomaly Opening Device to open a new Anomaly in front of the charging creatures, causing them to run through before Helen closed the Anomaly.
The model for the Embolotherium appears to have been used in Series 4 Prequel Webisode 1 as a Stegosaurus. Since the two creatures look nothing alike, only its head is shown in a low quality recording.
This is a small selection of images from the massive gallery page for Embolotherium. To the full collection of images, see here!