"Its a prototype, it's not meant to be sexy."
This article is a stub. Please help the Anomaly Research Centre by expanding it. Thanks!

Darren is one of three pupils who were in a Saturday detention class at McKinnon School with teacher Mr George - the other pupils being Darren's friend Steve, and his crush, Beth. He willing goes with Steve to the school's security room but is more cautious. It was his idea to go and see if Beth and Mr George were okay after ther run in with the Therocephalian, despite Steve's objections. Darren and Steve help Connor Temple wipe out a Therocephalian nest in the school cafeteria with home-made smoke bombs. (Episode 4.4) He was deeply saddened by Beth's death because he had a crush on her.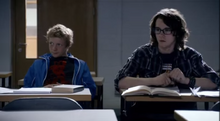 Ad blocker interference detected!
Wikia is a free-to-use site that makes money from advertising. We have a modified experience for viewers using ad blockers

Wikia is not accessible if you've made further modifications. Remove the custom ad blocker rule(s) and the page will load as expected.