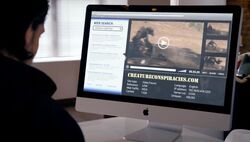 CreatureConspiracies.com is a website showing sightings of creatures in anomaly incursions. According to the website, the person who spotted the creature and took pictures of it lives in Utah in the United States.
Trivia
When Connor finds the site, the video of a Future Predator seems to be made up of screenshots from Episode 1.6.
The images on this site may indicate that there was a Future Predator incursion in the USA. As Utah is a large rural state, its likely that an incursion would go unnoticed.
Ad blocker interference detected!
Wikia is a free-to-use site that makes money from advertising. We have a modified experience for viewers using ad blockers

Wikia is not accessible if you've made further modifications. Remove the custom ad blocker rule(s) and the page will load as expected.