CreatureConspiracies.com
Comments

0
1,313pages on
this wiki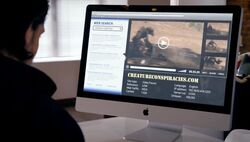 CreatureConspiracies.com is a website showing sightings of creatures in anomaly incursions. According to the website, the person who spotted the creature and took pictures of it lives in Utah in the United States.
When Connor finds the site, the video of a Future Predator seems to be made up of screenshots from Episode 1.6.
The images on this site may indicate that there was a Future Predator incursion in the USA. As Utah is a large rural state, its likely that an incursion would go unnoticed.