"What if this world is the only one there is?"
This article is written from the real world point of view (not from the Primeval Universe).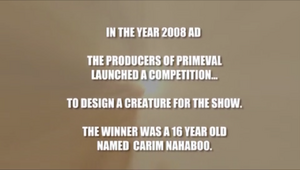 The Create Your Own Creature Competition was a Primeval competition for viewers to create an original Future creature, the winner of which would be shown in Series 3. The winner would get a behind the scenes tour of Primeval adapting their design into the show as seen on the Genesis of a Creature special. Over 5000 viewers entered, and a number of runners up were also shown when the winner was announced.
Results
Winner:
Runners up:
Other entries:
Future Snake
Future Slug
Dragons
Mimic Hepaxus
Gallery
Ad blocker interference detected!
Wikia is a free-to-use site that makes money from advertising. We have a modified experience for viewers using ad blockers

Wikia is not accessible if you've made further modifications. Remove the custom ad blocker rule(s) and the page will load as expected.