"Its a prototype, it's not meant to be sexy."
This article is a stub. Please help the Anomaly Research Centre by expanding it. Thanks!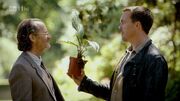 The Black Bat Flower (Latin name Tacca chantrieri) is a plant that Gideon gave to Matt Anderson at the end of Episode 4.1. He called it the "Bat Flower". Gideon noted that it wasn't endangered yet.
Ad blocker interference detected!
Wikia is a free-to-use site that makes money from advertising. We have a modified experience for viewers using ad blockers

Wikia is not accessible if you've made further modifications. Remove the custom ad blocker rule(s) and the page will load as expected.