Profession
Lab assistant
Affiliations
Unknown
Appearances
Series 5
Actor/Actress
Janice Byrne
Status
TBA
April Leonard is a new character who will appear in Series 5.
April is recruited by Philip Burton as a lab assistant for Connor Temple at his Prospero lab in the ARC, but is there more to her than meets the eye?
Episode 5.1
Edit
April is hired by Philip Burton, to assist Connor, in the New Dawn project. She shook hands with Connor, saying that she was really excited towards being able to work with him. At the end of the episode, she appeared again, talking to Philip, on the computer screen.
Episode 5.3
Edit
April works with Connor. However, while Abby is walking in the hallway, she meets April, and asks her what Connor was really up to. April doesn't tell Abby. This causes Abby to infilitrate their lab. In the end, she and Connor created the very first man-made anomaly, in history, together.
Episode 5.4
Edit
After they created that anomaly, to the shock and horror of the ARC Team, an enormous swarm of Future Beetles invaded the ARC, forcing it into lockdown. April, along with everybody else in the building, escaped to the emergency room. Then, Philip threatened to incinerate the building, in order to sterilize the beetle threat. However, Connor, Abby, and Emily then use flame-throwers, to burn the beetles. At the end, Connor decides to stop working with April and Philip, when he finds a picture of Helen Cutter, in one of New Dawn's files. However, April is currently planning a secret project, along with Philip, that is sure to have devastating consequences...
Episode 5.5
Edit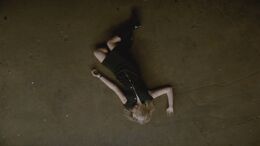 April confronted
Abby
, inside the
New Dawn
Facility. She threatened to shoot Abby, if she did not surrender. However, Abby then stole the gun from April, and aimed it at her. However, then, a flock of
Anurognathus
descended upon the two of them. Abby managed to survive, by ducking down, and covering her head, with both of her hands. However, April was not so lucky, and was attacked by two of the vicious pterosaurs. She fell to the floor, and rolled around, trying to shake them off. However, she wasn't watching where she was going, and so, she fell of of the catwalk, to her death. It is currently unknown if it was the fall that killed her, or the creatures. However, it is presumed to be the fall, since her body did not have any bite marks, on it.
Appearances
Edit