Ammonite
Talk

0
1,214pages on
this wiki
Ammonites are a group of marine animals.
An Ammonite was left in Nick Cutter's office by his wife Helen as a calling card, although it appears to be dying out of the water. What happened to it is unknown as Cutter never told anyone of the visit.
Helen left a fossilised Ammonite on Stephen Hart's grave.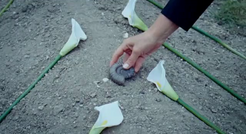 They are part of the subclass Ammonoidea in the class
Cephalopoda
, phylum
Mollusca
. Ammonites' closest living relative is probably not the modern Nautilus (which they outwardly resemble), but rather the subclass Coleoidea (octopus, squid, and cuttlefish). Their fossil shells usually take the form of planispirals, although there were some helically-spiralled and non-spiralled forms (known as "heteromorphs").
Many ammonites lived in the open water of ancient seas, rather than at the sea bottom. Many of them are thought to have been good swimmers with flattened, discus-shaped, streamlined shells. Ammonites preyed on fishes, crustaceans and other small creatures; while they themselves were preyed upon by marine reptiles.