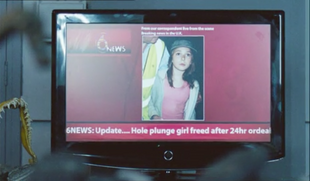 6NEWS was a television news program that broadcasted recent events. In 2007, they had a program about how Taylor Craig had been trapped in a pipe for 24 hours and rescuers had saved her using a digger. Taylor issued a statement to 6NEWS, thanking the emergency services for rescuing her and the public for their support. She also stated she would not be talking to the press about her ordeal.
In actual fact, that story was a made up by Jenny Lewis of the Anomaly Research Centre, to cover up two Anomalies, one of which Taylor had become marooned through. (Episode 2.5)
Ad blocker interference detected!
Wikia is a free-to-use site that makes money from advertising. We have a modified experience for viewers using ad blockers

Wikia is not accessible if you've made further modifications. Remove the custom ad blocker rule(s) and the page will load as expected.